Support this website
2020 election prediction #5
November 1 2020
I make a final prediction for the 2020 election.
==My prediction==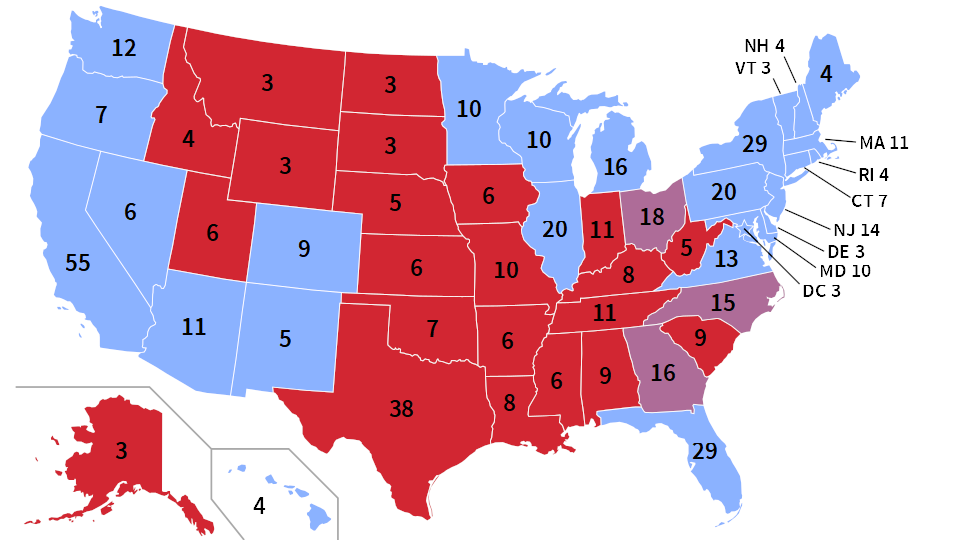 My final prediction for the November 3 presidential election
In this prediction, I predict that Biden will get Florida, and that there's a reasonable chance Biden will grab North Carolina, Georgia, and Ohio: There has been a surge of voters, these three states are swing states, and polls show things being either even or slightly favoring Biden in the states marked purple above.
I predict Trump will get states marked red (although there's a reasonable, if not high, chance Biden will get Iowa or even Texas) and that Biden will get states marked blue. This gives Biden a 319 or higher electoral vote victory.
While polling is tight in Florida, I have put it in the blue column. Let's look at some recent Florida polls from high-quality polling organizations:
New York Times: Biden 47%, Trump 44%, Other 3%, Undecided 6%
Washington Post: Biden 48%, Trump 50%, Other 1%, Undecided 1%
Monmouth: Biden 50%, Trump 45%, Other 2%, Undecided 3%
Marist: Biden 51%, Trump 47%, Undecided/other 2%
Averaging these polls, we get these numbers:
Biden 49.0%
Trump 46.5%
Other 1.75%
Undecided 2.75%
Here are the Clinton polling averages from 2016, again in Florida from high quality polling organizations (Quinnipiac, SurveyUSA, Siena, and Marist) compared to actual results:
Clinton 45.25% (Actual: 47.82%)
Trump 45.0% (Actual: 49.02%)
Other 3.25% (Actual: 3.15%)
Undecided 6.5%
Roughly two thirds of the "undecided" vote went to Trump, and one third of the "undecided" vote went to Clinton in 2016. Using those numbers in 2020, allocating 1.8% from 2020's undecided voters to Trump, and .95% from 2020's undecided voters to Biden, we get just under 50% vote for Biden, and somewhat over 48% of the vote for Trump. This is consistent with 538's prediction for Florida, which currently is 48.6% Trump and 50.7% Biden.
While Biden is slipping with Latin@s compared to Clinton in 2016, he is making enough gains among older and college educated voters in Florida to make up for it. The New York Times has an excellent article which goes in to how voter demographics have changed in 2020 compared to 2016 for Florida.
Point being, it looks like Biden is going to get Florida. If Biden gets Florida this would mean that Trump has, for all intents and purposes, no chance of winning the 2020 election.
==This will not be 2016 repeated==
A lot has changed since 2016; people saw that Clinton was ahead in the polls, ignored all of the undecided voters, and stayed home (or voted third party) instead of voting for her in 2016. It wasn't many, but it was just enough to let Trump get an upset win in a few key states.
2020 is different. Democrats are more motivated to vote than they were in 2016; things will be more like 2018, when both the polls were accurate and a blue wave of voters gave the House of Representatives back to Democrats.
Comments for blog entries can be seen on the forum.